Smith County is rich in recreational opportunities. We enjoy plentiful forests, wildlife, and waters.
Golf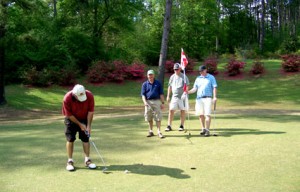 The 9-hole "Bay Springs" course at the Bay Springs Country Club facility in Louin, Mississippi features 3,128 yards of golf from the longest tees for a par of 36. The course rating is 34.4 and it has a slope rating of 112. Bay Springs golf course opened in 1965.
The 18-hole "Bear Creek" course at the Bear Creek facility in Laurel, Mississippi features 6,482 yards off from the longest tees for a par of 72. The course rating is 70.3 and it has a slope rating of 118. Bear Creek golf course opened in 1984.
The 18-hole "Laurel" course at the Laurel Country Club facility in Laurel, Mississippi features 6,699 yards of golf from the longest tees for a par of 72. The course rating is 73 and it has a slope rating of 130 on Bermuda grass. Designed by Seymour Dunn, the Laurel golf course opened in 1917.
All above-mentioned golf courses are within 20-30 miles of Smith County.
---
Hunting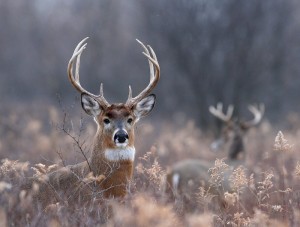 Deer hunting is great sport in Smith County. Hunting and fishing in Smith County Mississippi are popular recreational pastimes. Deer, turkey, squirrel, rabbit, quail, and dove hunting are all activities enjoyed throughout the county. Some record-setting deer have been taken in the county. Hunting license is required. The Leaf River is a great ride by canoe, kayak, or small boat. There are several state-designated access points to the Leaf; one in Taylorsville at the river bridge on Hwy 28, east of town, and the Bob Blakeney Bridge, just off River Road north of Taylorsville is the other.
---
Recreational Sports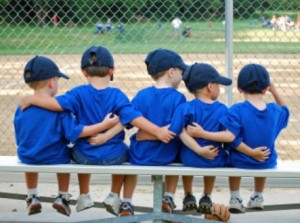 Another great pastime available in Smith County is recreational sports. Aside from golf, fishing, skiing, boating, swimming, baseball, and softball leagues and programs are available throughout the county which is the highlight of youth in all areas of the county.
---
Bienville National Forest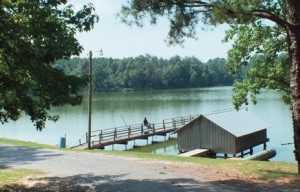 Beaver Lake near Polkville. Nearly 73,000 acres of Bienville National Forest are found in Smith County, most of it located in the northern part of the county. The National Forest offers visitors a variety of opportunities during all seasons of the year. Interstate 20 routes through the forest and allows easy and convenient access for many travelers who might want to take a rest stop or tour the forest.
Almost the entire acreage is open to hunting, fishing, camping, hiking, and other outdoor pursuits. Portions of the Caney Creek and Tallahalla Wildlife Management Areas are located within the Bienville National Forest and are managed cooperatively with the Mississippi Department of Fish, Wildlife, and Parks. Hunting for deer, turkey, squirrel and rabbit is very popular. For more information about National Forests in Mississippi, look here. Caney Creek has a location near Polkville and has made improvements to Beaver Lake which is now open.
---
Bienville Recreation Areas
The Bienville National Forest manages two developed recreation areas in Smith County, Marathon and Shongelo.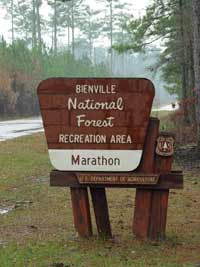 Marathon Lake, in Bienville National Forest – you will enjoy the beauty and seclusion of Marathon Lake, a 50-acre lake located in the northeastern corner of the county. Marathon Recreation Area contains 34 camping units with water and electricity, 14 picnic tables, 2 picnic shelters, and a swimming area. For hiking, there is also a Lake Loop Trail of about 1 1/2 miles. It got its name from Marathon Lumber Company which closed in 1929. The lake is stocked with catfish, bass, and crappie and is open to bream fishing. The campsites have hookups and many are handicapped accessible. A dump station is available.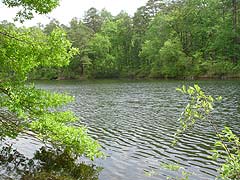 Lake Shongelo is a small, beautiful recreation area located about 5 miles north of Raleigh. Shongelo was a village formed in 1865 and named for Shongelo Creek. By 1909 the village had a population of 200, had 2 gristmills, a sawmill, store, and post office. The park contains 4 campsites, 7 picnic sites, 1 picnic shelter, a swimming area, and a 1/2 mile loop hiking trail with an observation platform overlooking the lake.
---
Hiking, Canoeing, & Water Attractions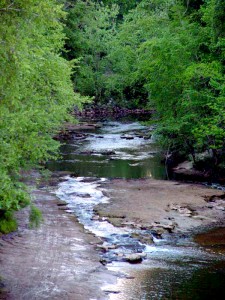 The Oakohay Hiking Trail is found on Highway 481 and travels through a stand of trees demonstrating uneven-aged management of loblolly pine.
Lake Ross Barnett is an 87-acre state lake located in Smith County, 4 miles Southwest of Mize, off Highway 35. Concessions, restrooms, boat dock, boat ramp, picnic tables, and camping with electricity and water hookups are on site. Boat rentals and pavilions are also available. Skiing is also allowed on Friday and Sunday afternoons. Lake Ross Barnett is one of Mississippi's best-known big bream lakes. Large blue gill and sunfish make this lake a popular attraction to anglers. Hawks, ospreys, herons, and egrets are common near the lake.
You will find great beauty along the creeks in Smith County. Tallahala Creek is a great place for a summer swim in Smith County with a small falls.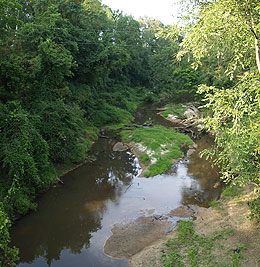 In Mize are two lovely creeks, Okohay and Clear Creek, which flow thru the town of Mize and the City Park there. (City Park in Mize is the location of the Annual Watermelon Festival.)
The Strong River near Polkville rises in Scott County and flows thru the northwestern part of Smith County. The Strong is a shallow quiet river. The picture at left was taken from a bridge that crosses the Strong River near Polkville in the northern part of the county.